Tips & Tricks, erwin Data Modeler
Diagram Reports: Adding Contextual Details
Diagram reports can provide a useful method of sharing metadata from erwin Data Models to a large subset of non-technical users though simple html reports. Included templates provide a base level report, presenting tabular and diagrammatic details, but by customization you can enhance your reporting capabilities by leveraging the tools made accessible in HTML documents.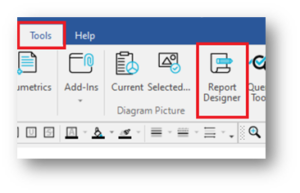 To get started, open the model you wish to produce a report for, then head to the Tools menu to open the report designer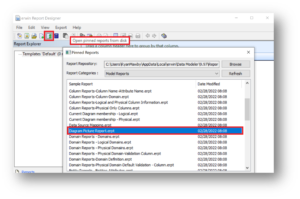 Select the pinned reports and pick the Diagram Picture report template from the Model reports group, we can use the pre-defined report as a foundation for our customization. Alternatively, you can build the report from scratch, but as the template provides only the basic layout, as the advantages are limited.
To build up our report, start by right clicking on our fresh template and open the properties. Expand out the ER Diagrams list, followed by Graphical Members->Entities->Columns->Properties. From here we can select the additional details to include in the entity context box. In our example, our diagram only lists column names. For a high-level overview this is fine, but we want to allow for the option to examine the finer details, such as Datatype and Null option, both of which are selected from our property list.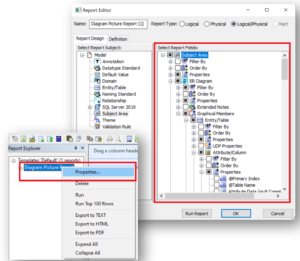 Select 'OK' to save the changes, before clicking on 'Export to HTML' to save the report, then using the dialog box we can adjust the save  location and header/footer. Note the option to open the report after exporting.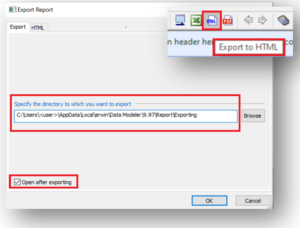 Click on export to finalize the report settings and choose the diagrams to include in the report, selecting 'OK' to run the report.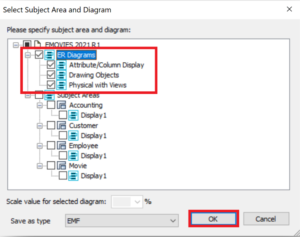 If specified, the report will now open in your default browser. We can view the list of the generated diagrams on the left-hand side, and if we click on an entity we can open the context window to view our specified properties.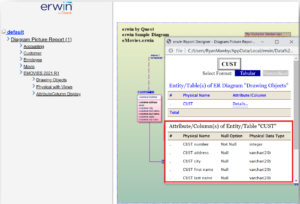 It is worthwhile noting that as much as we are building the report with the intention of generating a diagram report, the template still retains the standard abilities of erwin reports. Running the report from within the report designer will produce the standard interactive results, exportable to any of the supported formats.